Discussion Starter
·
#1
·
As some you may know my car has been off the road the past few months as I had a bit of an accident and did some front end damage to my car. Its been off the road a few months as I have been saving up the money for parts etc and for my dad to find the time to help me fix it etc. I did have an old thread on here ages ago for my car, but as it was that long ago and a lot of things have changed on it since then I thought a new thread was appropriate. Apologies for the quality of some pics as they were taken on my phone, but they arent too bad. :thumbs_up:
Heres how the car used to look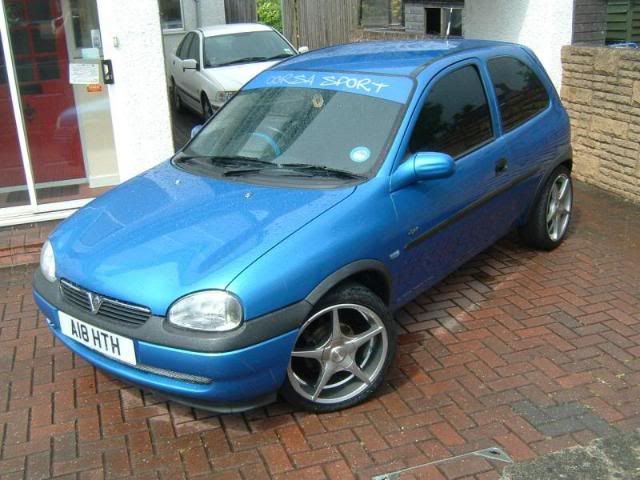 The interior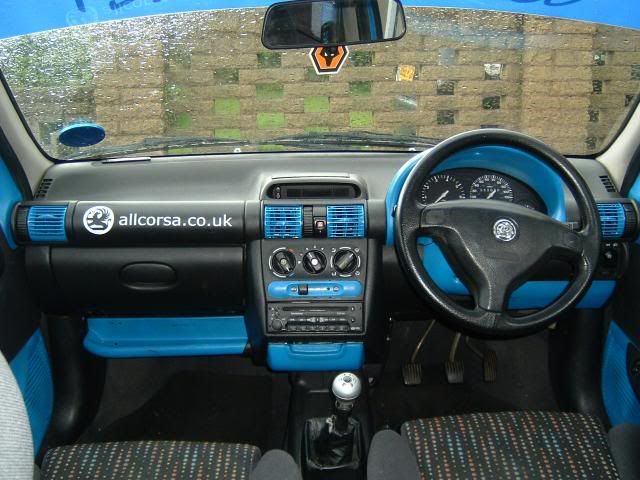 And then the damage to the front end that I did.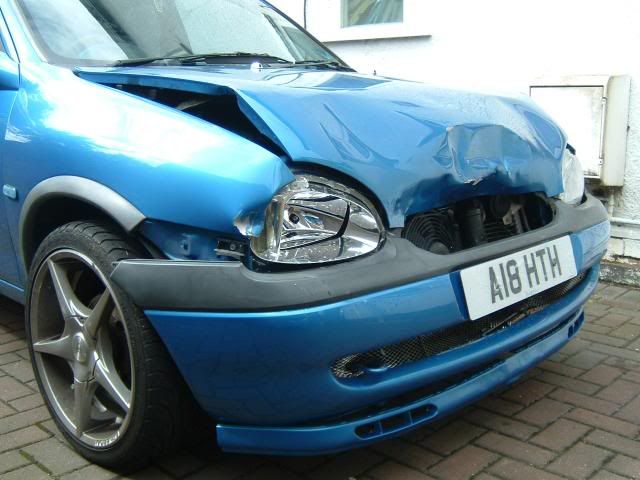 While the car was off the road, all the money that I was saving on petrol was being spent on various parts such as new wing, bonnet, depo headlights, badgeless grill, jamex suspension kit 60mm, radiator and a fair bit of primer, sandpaper and paint lol. Yes I was excited by now and heres a pic of some of the goodies.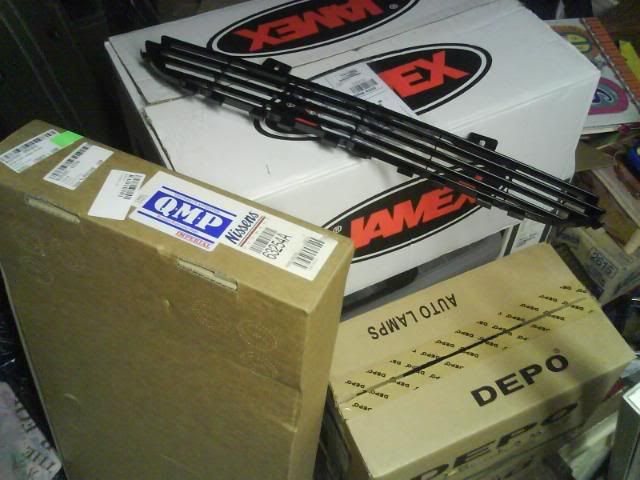 First thing that I replaced was the bonnet which my dad managed to pick up from a scrapyard for me for quite cheap.
Next up were the new alloys. I did have some 14" 3 spoke nova gte alloys on the car just while it was sitting still after I sold my 17"s. Then one day some bloke from near me came round (who owns a nova) and said hes been watching my car for a while and he wondered if I'd consider doing a straight swap for the 14" white 5 spokes he had on his. Seen as though the white alloys suited my car a lot more than the nova ones did, I did the swap.
I also removed the sunstrip.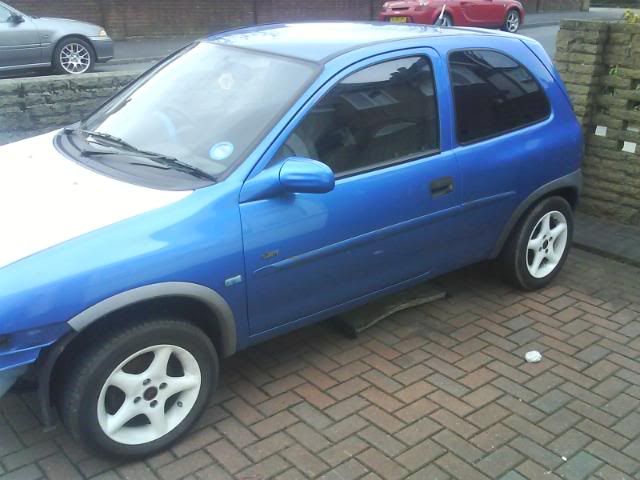 Ever since I had the car I wanted to do a full colour code, but I had never had the time to do it, but seen as though the car was now off the road I started it.
Here are some pics of the work in progress...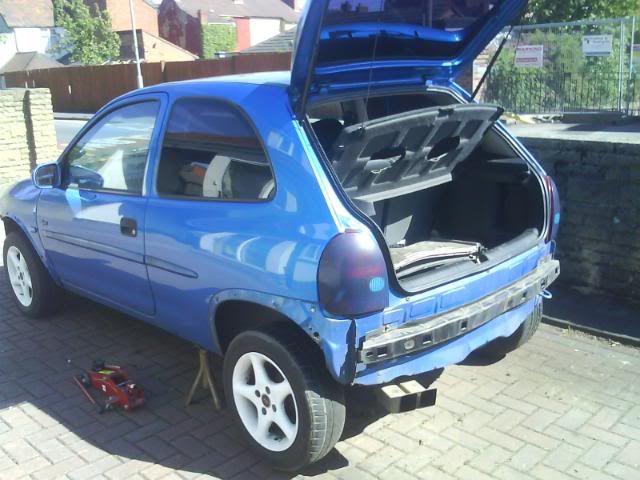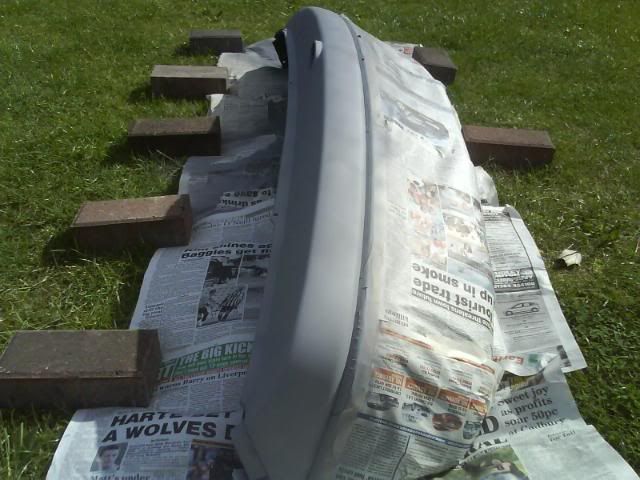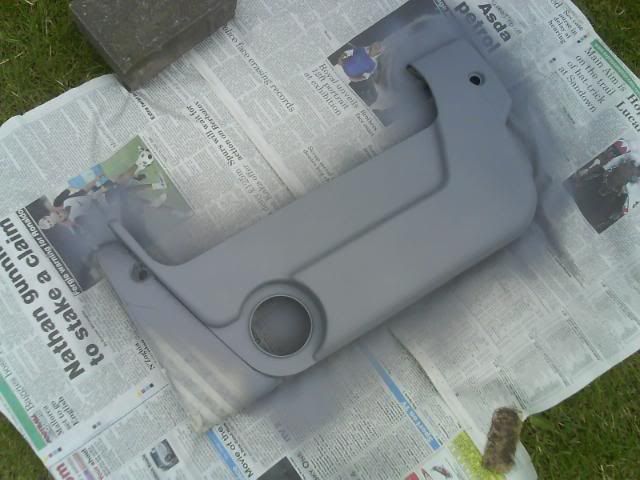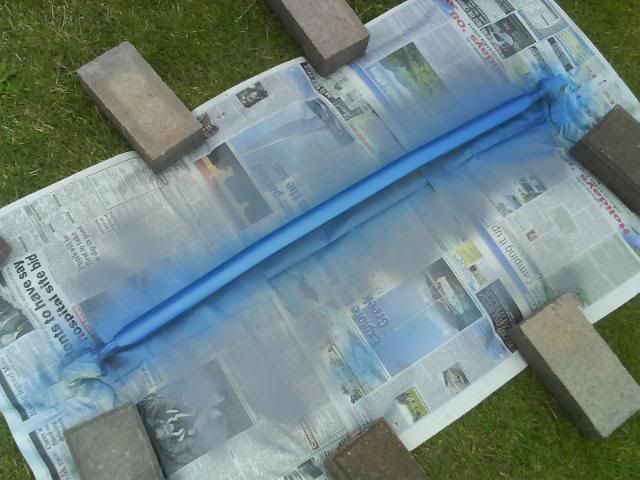 And then a couple of pics after the rear bumper and arches were finished.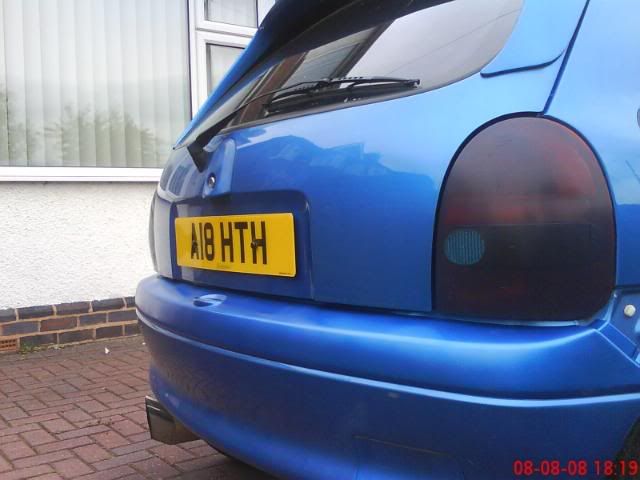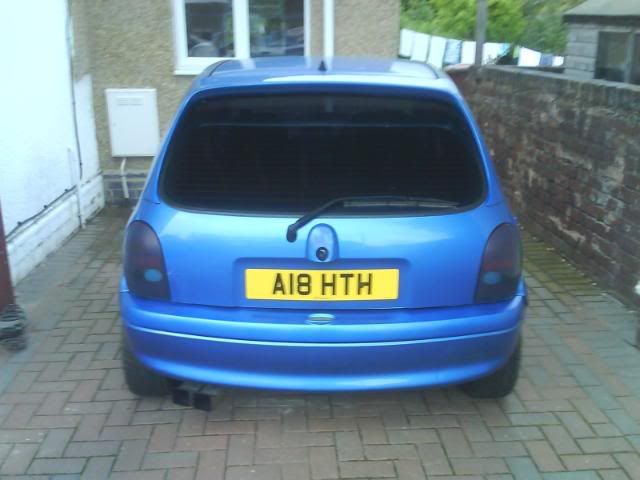 Next up was fitting the 60mm Jamex Suspension kit which I had bought. Turned out to be a relatively easy job which I was happy with considering I have never messed around with any kind of suspension in my life.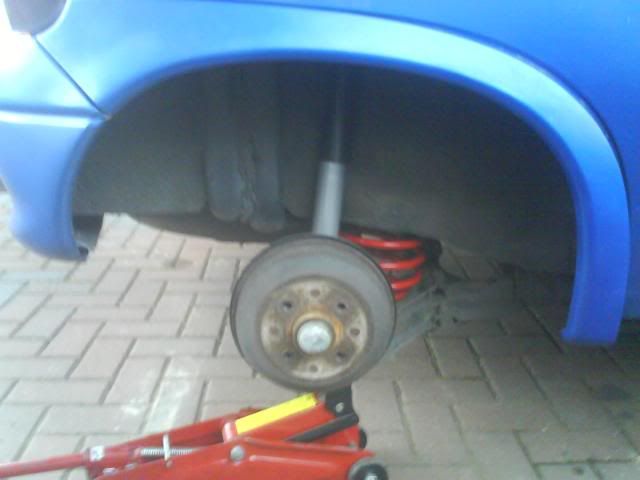 Nice shiny new parts lol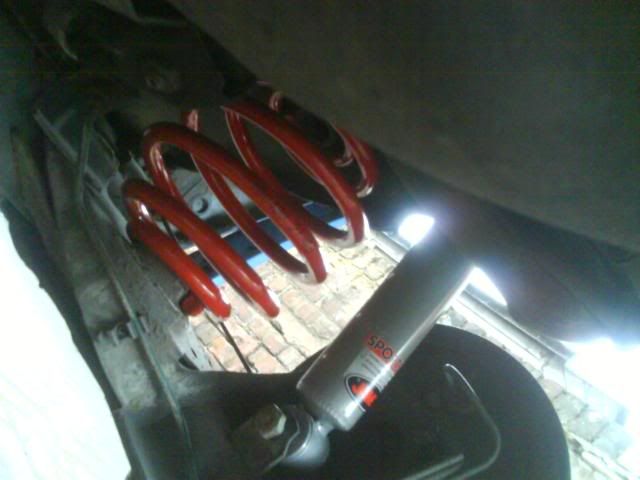 And the result, lowered 60mm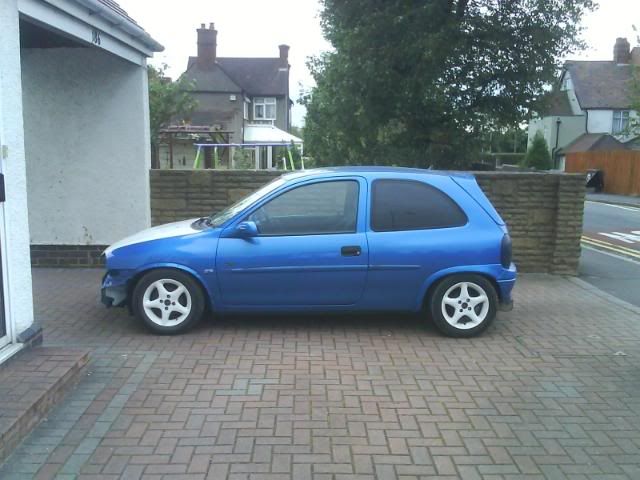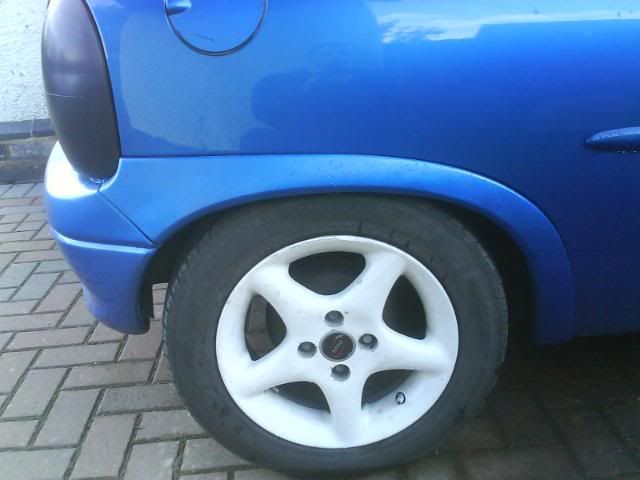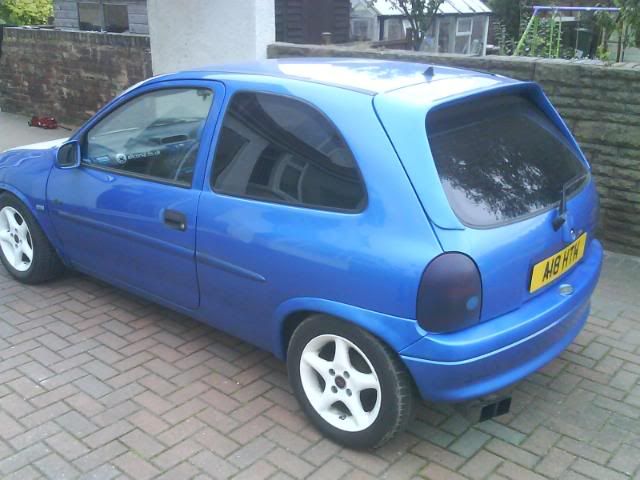 Then I had a good wage one month so I treated myself to a dvd player for it. I wanted a headunit with an aux input on the front for my ipod, but this had one of those aswel so I bought this. I haven't fitted it yet though, il get some pics up of this when its in.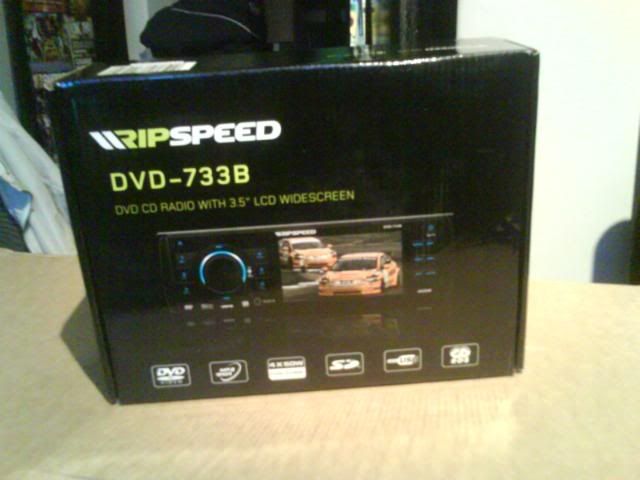 Then the serious work started as we pretty much had all the parts we needed and my dad had a few days off work. From my accident, luckily pretty much most of the damage was cosmetic and hardly any was mechanical. The front slam panel was all twisted and out of shape so it had to be cut out ready for the new one to be put in place.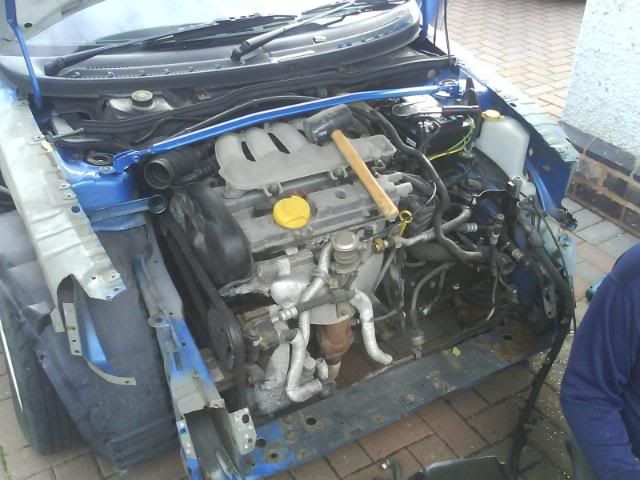 Then me and my Dad trial fitted the new front slam panel in place just to see how decent the line up is etc, and it turned out to be pretty good.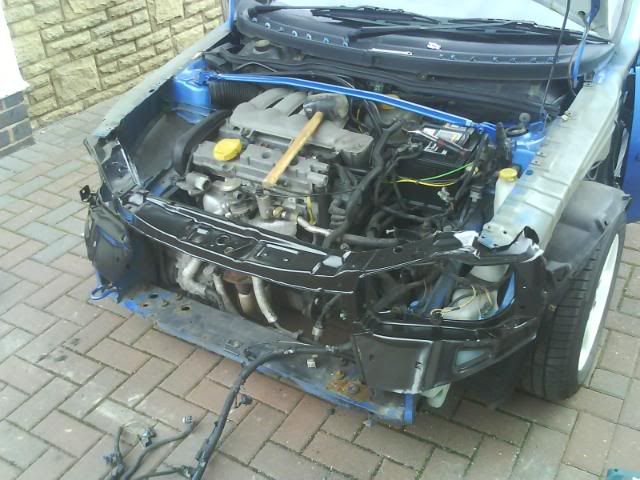 Will be sprayed eventually to match the colour of the car, and heres a pic of the old piece we cut out.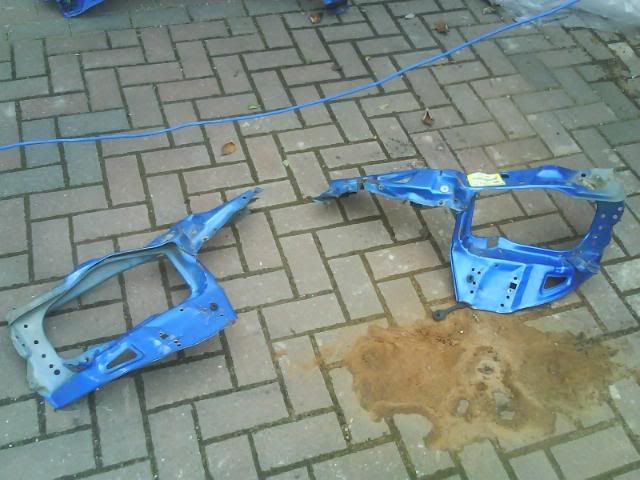 Before fixing the new slam panel permanently into place which will be done hopefully in the next week, I also worked on one of the lower panels at the bottom and got rid of some rust that had built up in the corners and primered it.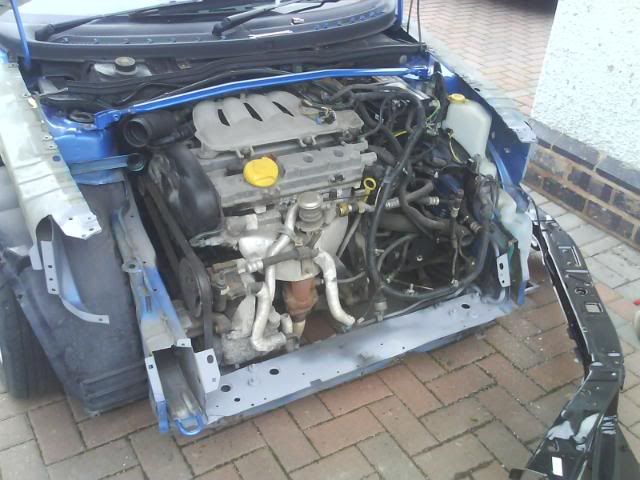 Thats the work that has been done so far, in the fixing of my motor, but watch this space as there is more to be done.
One final pic of todays work. Starting to look like a Corsa again lol