Alright, well i'll start off by saying I currently live in France, right outside Paris in a town called Antony. Originally from South Carolina, USA I've had a few cars already, mainly civics, all off them modded, engine swapped, lowered and all that jazz. I like to do all the work myself and hardly ever ask for help, seems more of a personal car that way.
Anyway I just moved to Europe at the end of august and got my first car, an Opel Corsa 1.4i 16v, ya know, the ecotech model. Its got some nice pickup and a decent look already. I've been KILLING this website with searches as well as Google to see what can possibly happen with these cars, and I gotta admit that I do like the look of the car and the possibilities.
Heres a photo of the the day that I got it, it had some ugly hubcaps on it so i had to take them off and throw them away, one was also missing lol.
Its in pretty decent shape, one dent on the driver rear quarter panel, havn't tried to take it out yet but the paint isn't chippped so i'll just leave it for now.
Got lots of plans for this thing tho, first off its gotta be lower, can't stand it sitting that high. Was thinking about going with a 60mm lowering springs and just gonna ride out the shocks on the rear until they die(which won't take to long) then replace with proper.<- chime in if people have had issues with fitting the springs onto stock shocks. Wheels of course, my dream is Volk TE-37's but any 5 thick spoke will probably do.
Issues with the car now, other then the brake pads/rotors needing changed the car is is pretty good condition. Gear linkage needs to be swapped out as well as the air filter, which i'll probably just switch to a cone filter instead of de-restricting the airbox(honestly I think it looks a bit tacky). Of course all the normal stuff as well, stripping badges, side bumbers, repainting stuff, and interested in adding a GSi spoiler and roof racks(probably not till its lowered).
Anyway as progress goes along i'll be adding stuff, might be slow at first but there will be lots of photo's of before, during, and after progress.
Glad to be here and I'm sure i'll be asking alot of questions about these cars as we don't get them in the states(tho its got GM parts all over it lol).
As it stands now, this will be updated as things progress. as well adding a todo list which i'll keep updated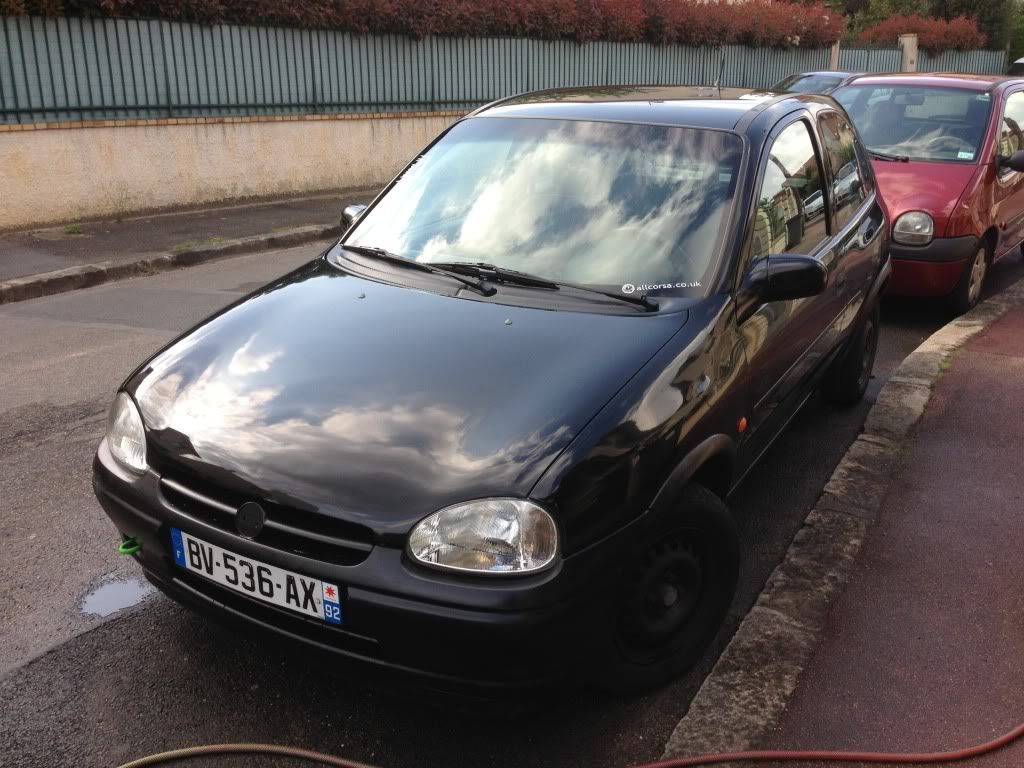 to do list will be short term and long term goals, as money is tight with wife and kids and trying to save up money for our move(after the first big move from the states to france)
Short Term:
repaint all plastics on exterior blackDone
semi-referb steelies to black
black depo
hid "style" bulbsdone
stereodone
replace speakers
fit new gear linkagebought, not installed
new tow strapbought not installed
long term
Lowering probably 60 all around at least
new 15" alloys probably not vauxhall wheels but something different
exhaust setup, not sure what kinda/style yet
plasti-dip whole car
GSI spoiler
Actual 6k Hid kit
Rebadging Vauxhall
maybe some other stuff but wanna keep it simple.
things may change here and there who knows. Kinda got a general idea what I wanna do. but things change.