Discussion Starter
·
#1
·
Here's a small guide on how to re-spray the grill and engine cover on your corsa B
This was done on a 1.6 Sport but the same principals follow for any car.
Tools:
-8mm socket and ratchet to remove bolts from engine cover and grill brackets.
-Sand paper of varying grades (I didn't get too hung up on exact grades, just one for rubbing down and a couple for flatting/re-fining).
-Colours of choice (in this I used HYCOTE paint as to me it's tough, spreads nicely, doesn't take an age to dry, and gives a nice gloss before lacquer).
-Primer/Plastic primer (i used grey).
-Small flat head screwdriver, explained later.
-Super glue, again explained later. Optional
-Some warm soapy water and a tooth brush.
Step 1:
We'll start with the grill. To remove, simply undo the two 8mm bolts above the grill holding the brackets in. The next bit is slightly trickier, bend the top out slightly and then push the bottom in but whilst lifting up slightly at the same time. If the bottom doesn't pop out easily, use your judgement to 'persuade' it out with a bit more force. If you snap a clip don't worry too much just try and keep it minimal (none at all ideally) as it will make re-fitting much easier!
Step 2:
So you should be left with something like this: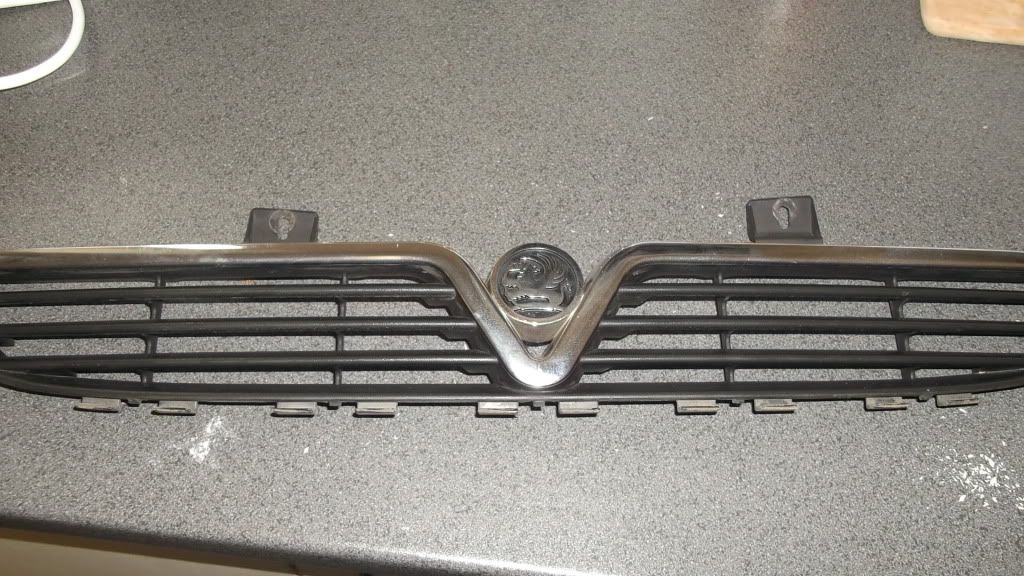 Next, depending on what you want to do, you may want to separate the chrome V from the grill. If you turn the grill around and lock closely you can see little clips holding it in:
I found the easiest way to un-clip it is to push the small flat head in, and turn it so the clip pops out whilst your gently pulling the V away, but don't force it! Hopefully you'll be left with this: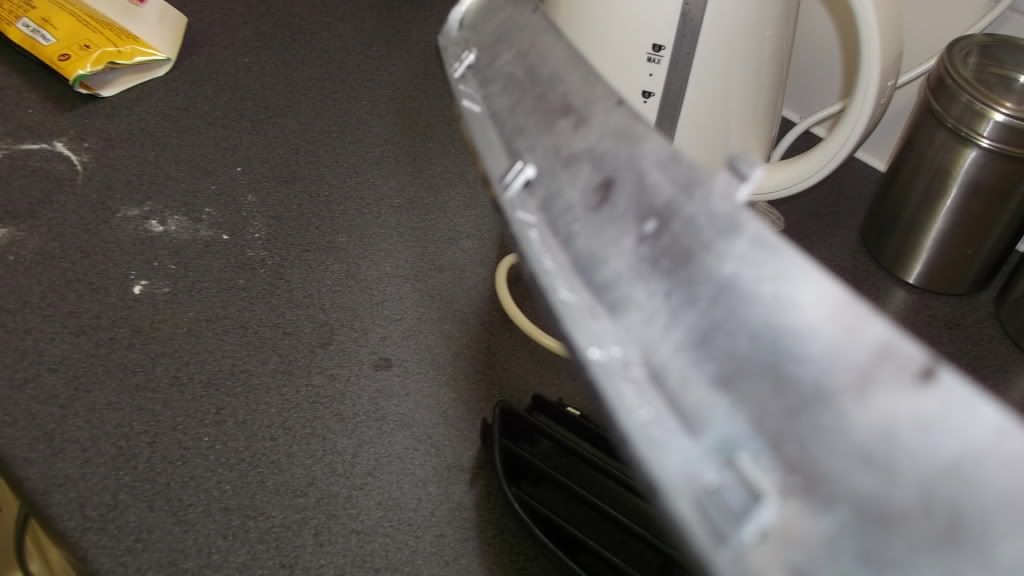 (only 1 small clip broke)
Step 3:
Now you'll want to give the grill and V a good scrub, I say use a tooth brush as there's plenty of little nooks and you want to try and get the parts spotless or else any dirt will get trapped underneath the paint, which you don't want (if you want a good result):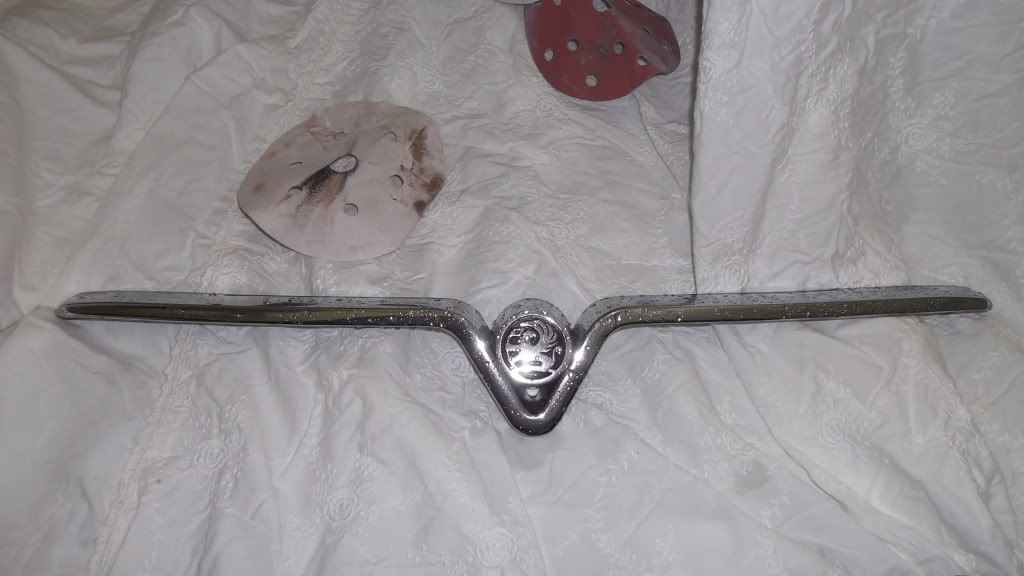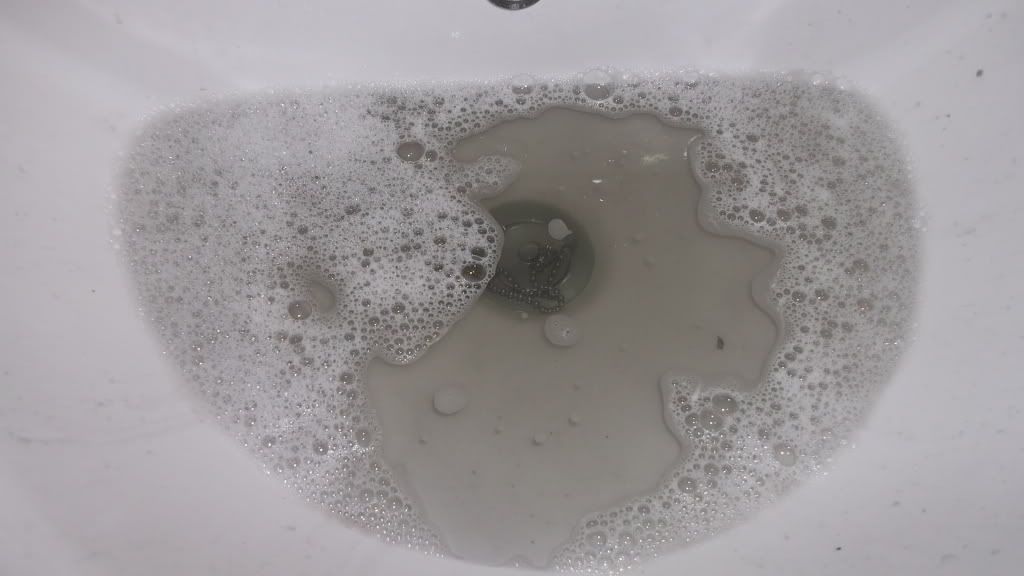 Step 4:
The next step is to use your coarser sand paper to key the parts to give the primer and good base to adhere to, don't go mad and fluff up the plastic, just a quick light sand will suffice:
Step 5:
Now the fun starts
take your (pre-warmed in warm water) primer, give it a good shake and proceed to give a nice
light
coating on the parts, no need for a heavy coat at the moment, just a light base:
Step 6:
Now, some people will do this part differently but this is the way I do it and I've never had any problems, peeling/bubbling paint etc etc. Get the second coat of primer on about 10-15 mins after the first and gradually build the coats up every 20 mins or so after until you have a nice, even coverage. Then allow to dry for a couple hours before the next step: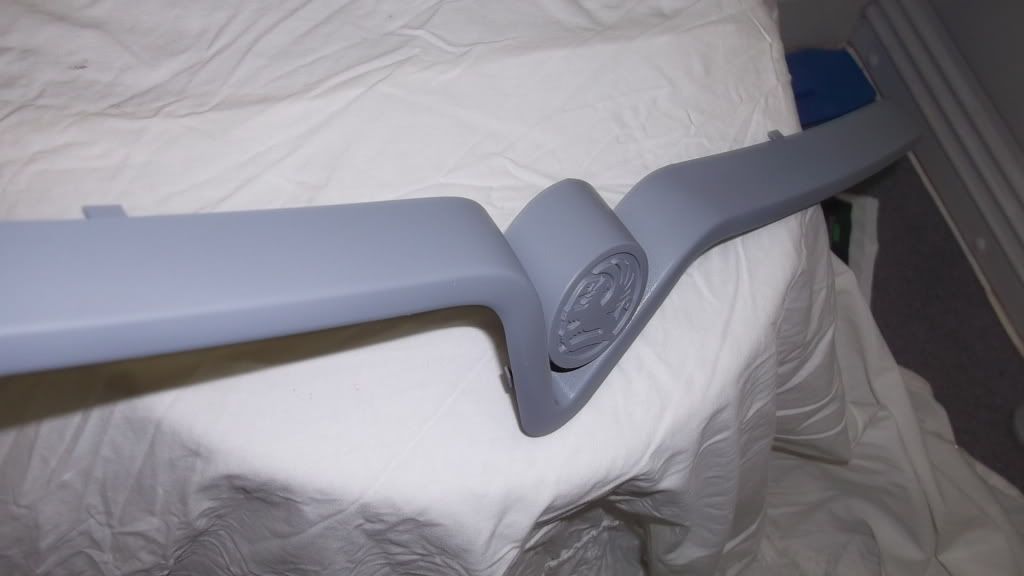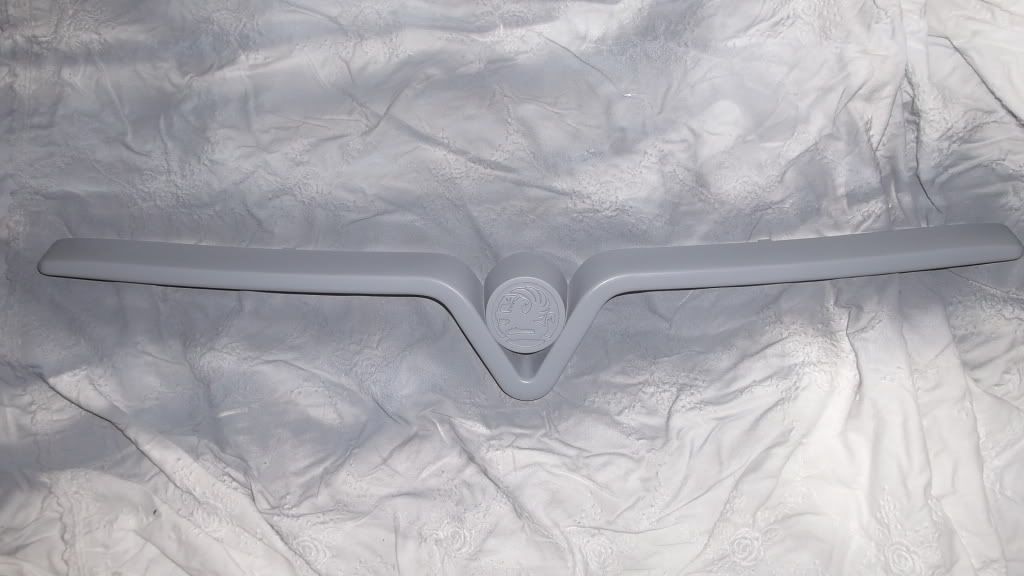 Step 7:
Again, different people have different methods but I haven't had problems with this thus far. Soak your finest grade paper in some lukewarm water for a good couple mins (my finest grit almost felt rubbery as it had very minimal grit to it). Next dribble some water onto the primer'd surface and lightly sand the surface making sure it's lubricated at all times. This is the wet-sanding part and is crucial if you want a nice, flat, even finish. Skipping it isn't a massive problem but you'll more than likely have plenty of orange peel which isn't nice to look at. Do this lightly until you are happy with how smooth it is. If primer around the edge starts to rub down to plastic, don't carry on with this part but don't panic as little spots aren't too bad but again, keep it to a minimum.
Step 8:
So after the plastic is dry, you'll want to start adding your chosen colours, my colour scheme is red and white (for the minute). As with the primer, do a light base coat, second coat around 10 mins after and then progressive coats around 20-30 mins apart (on both primer and colour I do 4-5 coats of each). Patience is the key here, I know you hear it everywhere but it's better to do 4-5 light coats spaced further apart than 2-3 heavy coats in a short space of time as you will get runs, patches and the overall finish will be disappointing. However, I've found the HYCOTE paints to be quite good on drying times which helps speed the process slightly. use your common sense when judging the rate at which you work :thumbs_up: :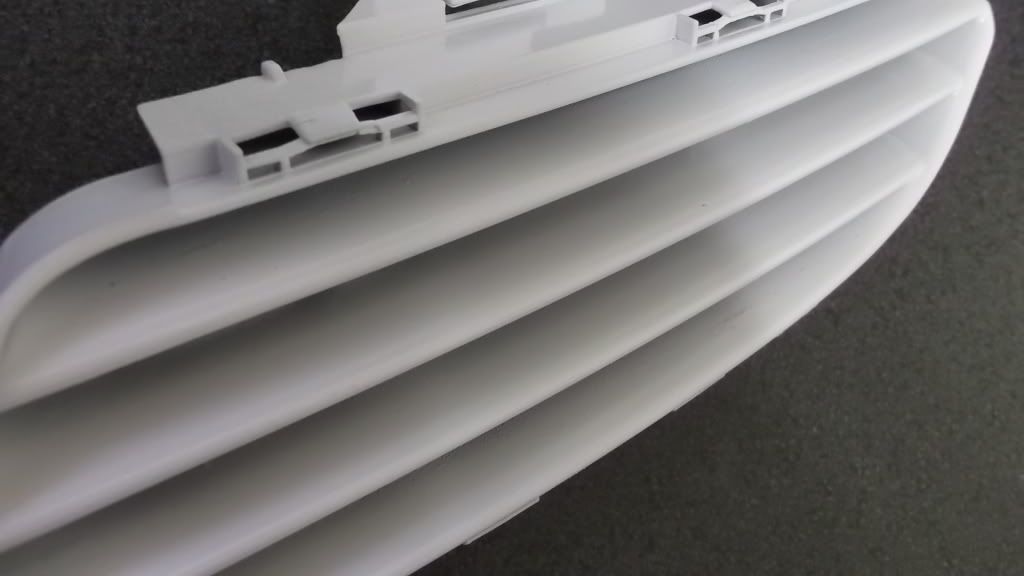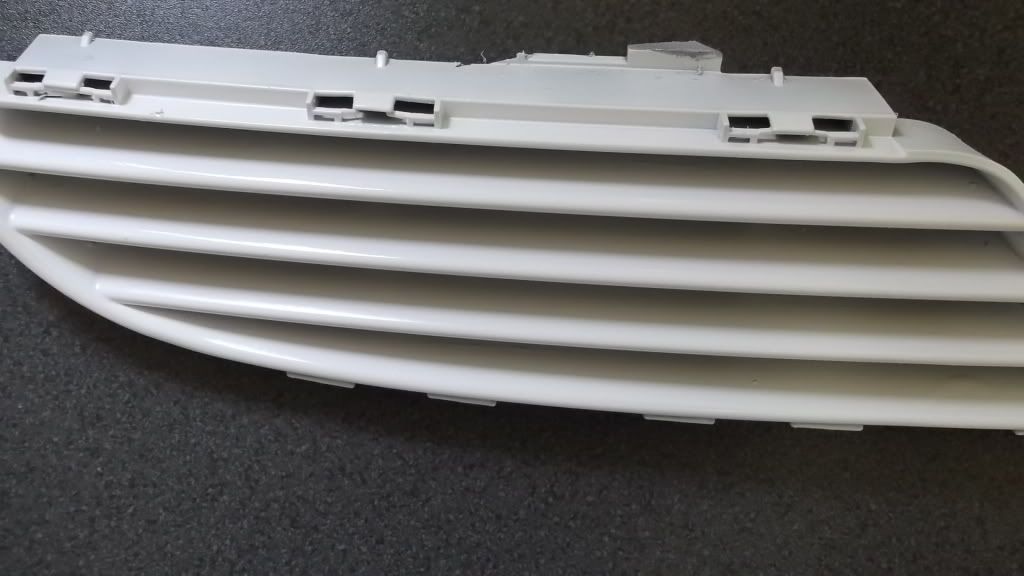 Step 9:
So once you're happy with the finish, allow the paint to harden until the next day (in this instance the paint only hardened for around 6 hours, but I would always advise as long as possible).
Step 10:
Next comes the lacquer. The same applies as the previous steps. A light base coat for the second coat to adhere to. Then progressive coats every 30 mins. Make sure coats are very light (but even) as lacquer is more prone to run than paint. This is the last step in terms of painting so take your time and do it right so you only have to do it once, you don't want all your previous work un-done by rushing
So if you've followed these steps you should end up with something along the lines of:
The same steps apply to painting the engine cover too, so instead of doing another in-depth guide, I will give you a short break down of the main points:
Step 1:
Remove the cover via the 2 8mm bolts either side and give it a good scrub with soapy water:
Step 2:
Lightly sand the surface to key it and give the primer a good surface to adhere to: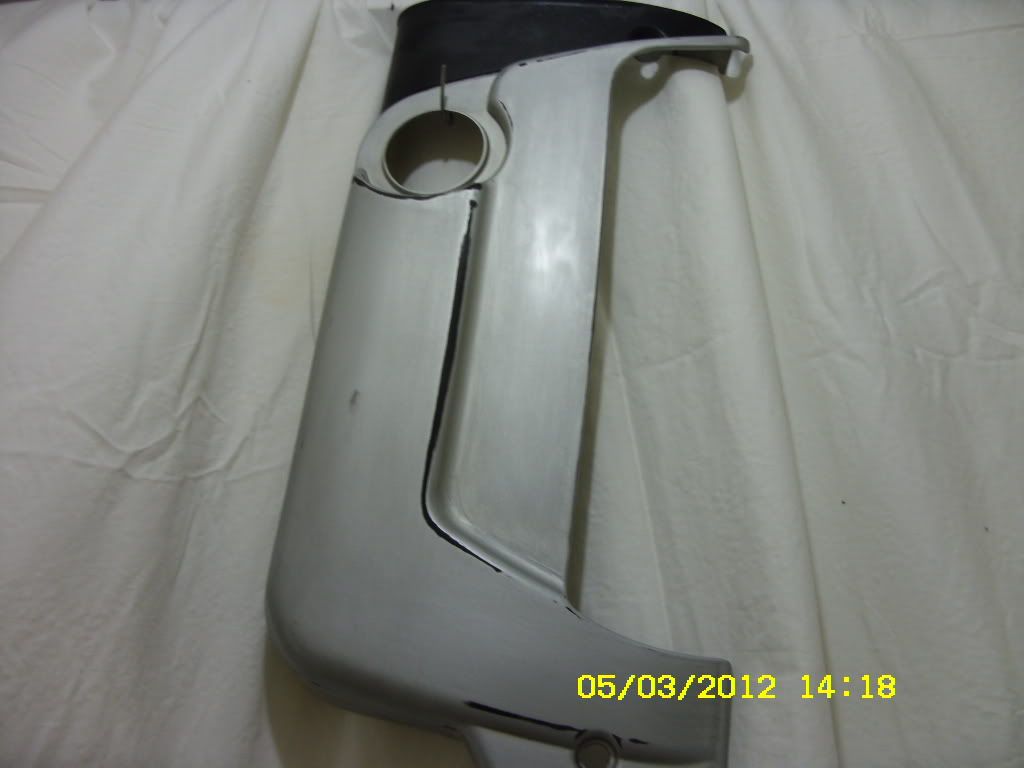 Step 3:
Lightly do the base coat of primer and gradually build up the coats every 20 mins or so:
Step 4:
Lightly wet sand the primer back ensuring the surface is lubricated at all times until you are happy with the smoothness.
Step 5:
Once the plastic and primer is dry, follow step 3 to add your chosen colour (note, my cover is 2 different colours, I masked up the smaller side and sprayed the white side first and then masked up the white side and did the red but make sure whichever side you do first is 100% dry before doing the other or else you risk marking/peeling the soft paint when masking).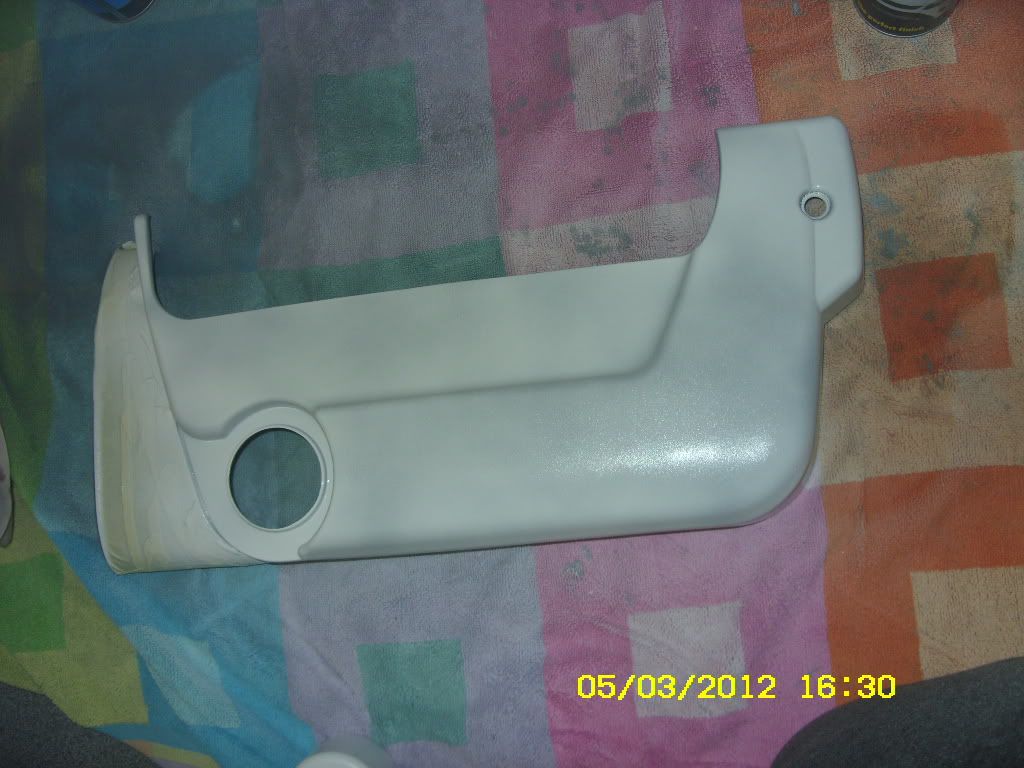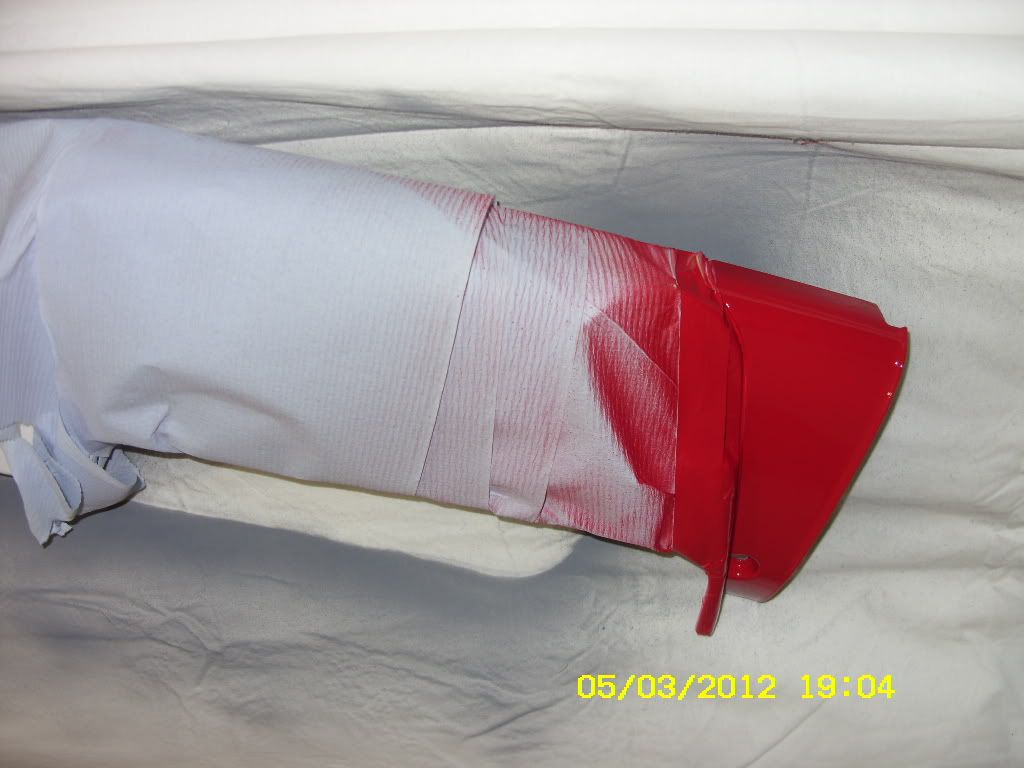 Step 6:
Add your lacquer once colour is fully dry, allowing slightly longer drying times and lighter coats.
You should then end up with something like this: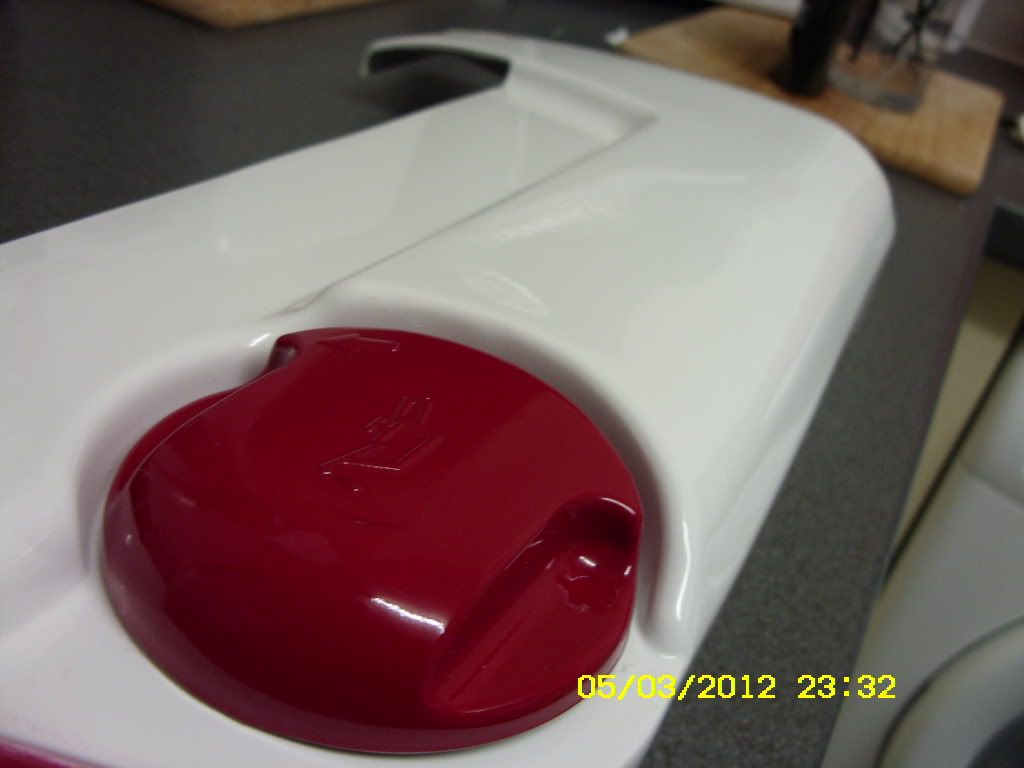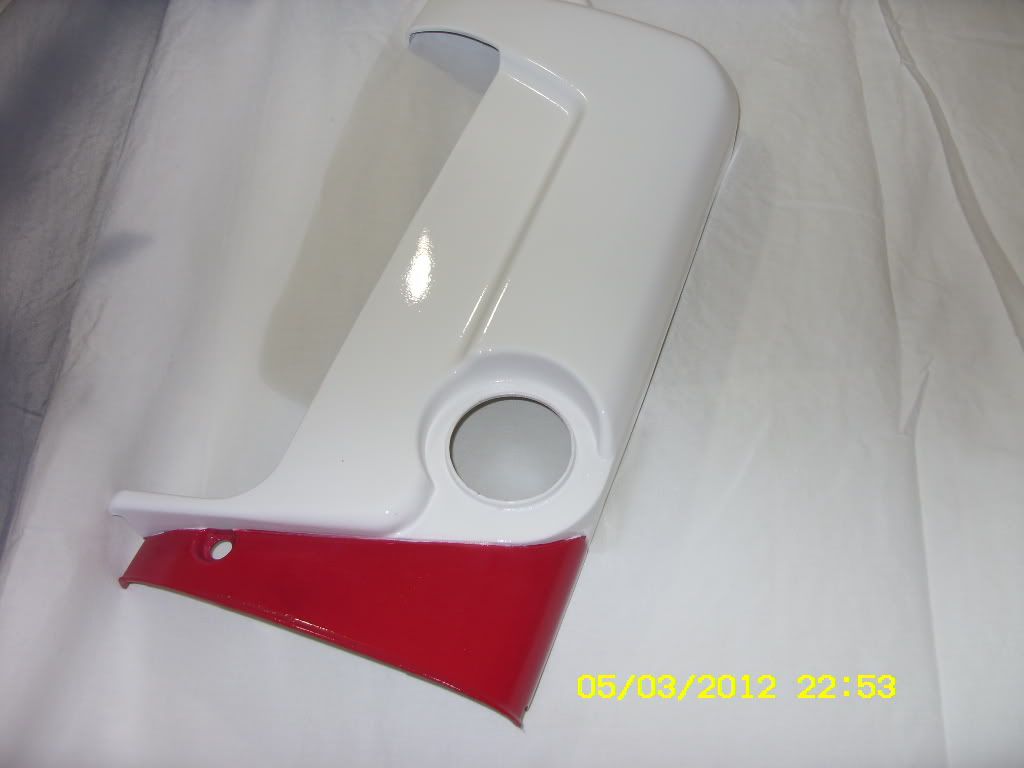 (as you can see I also did my oil cap too)
So once this is all done, allow as much time as possible to cure the paint and then re-fit the parts in the reverse of how you removed them (the glue is for any clips you may have broken along the way). Hopefully you have something along the lines of: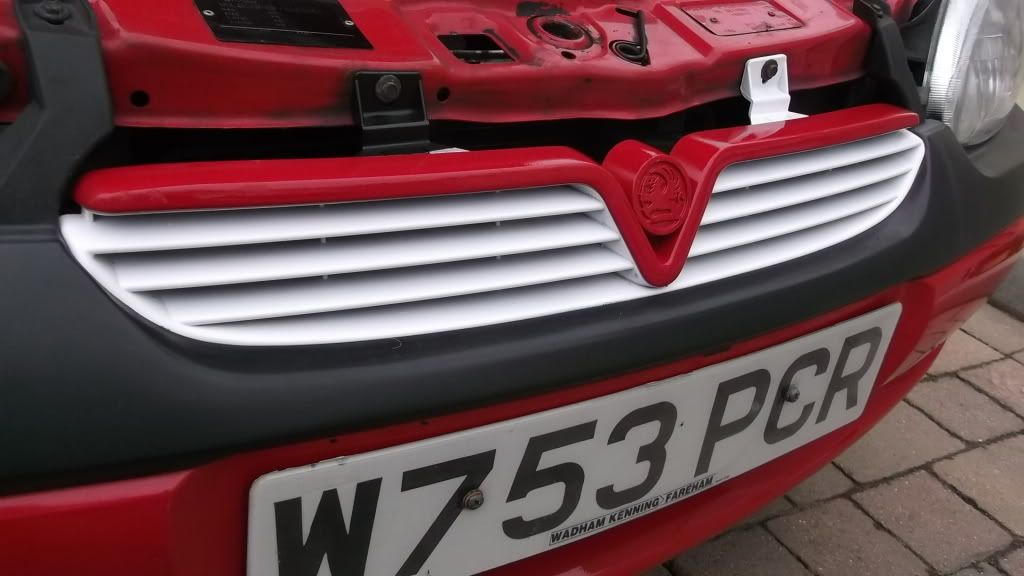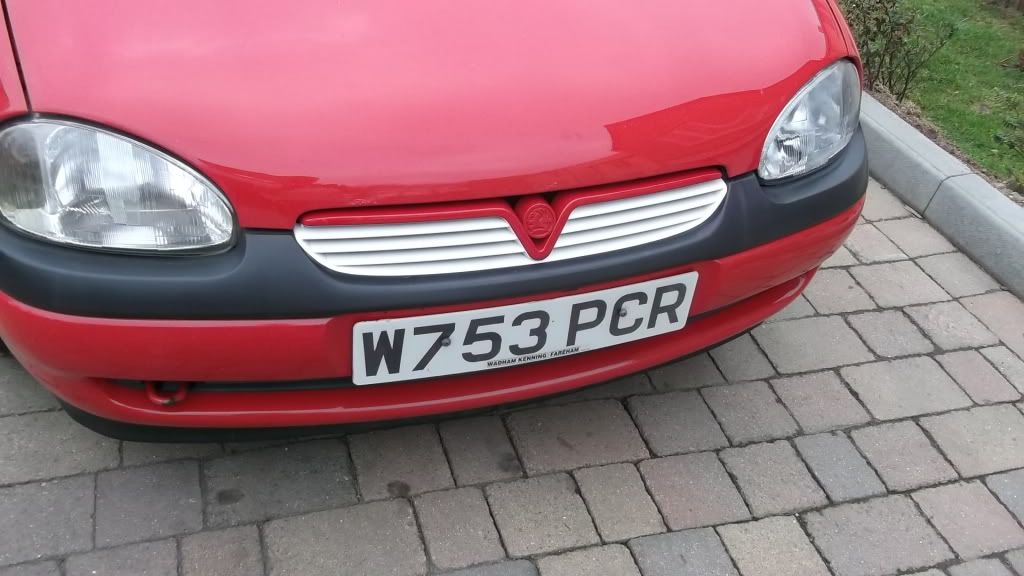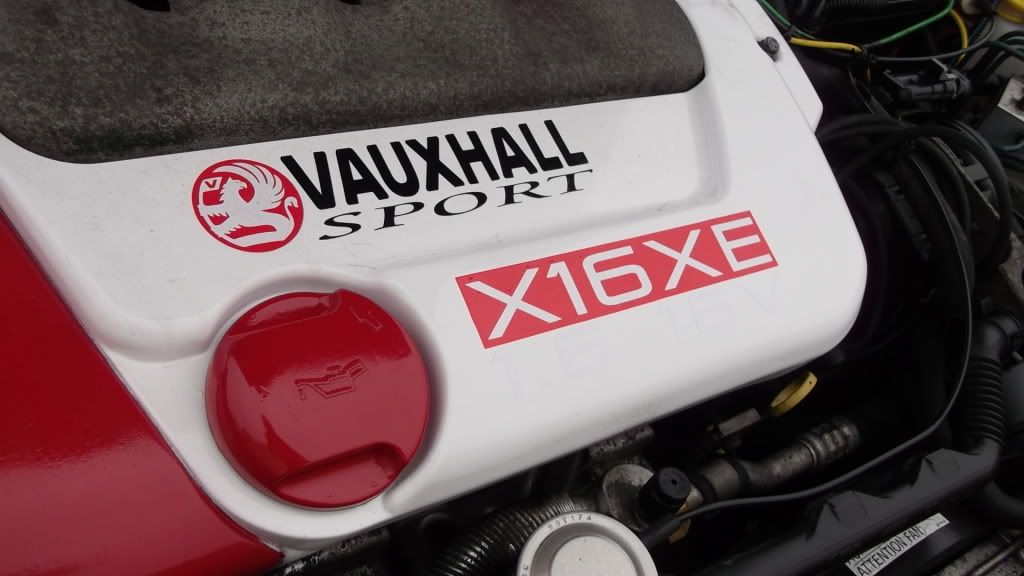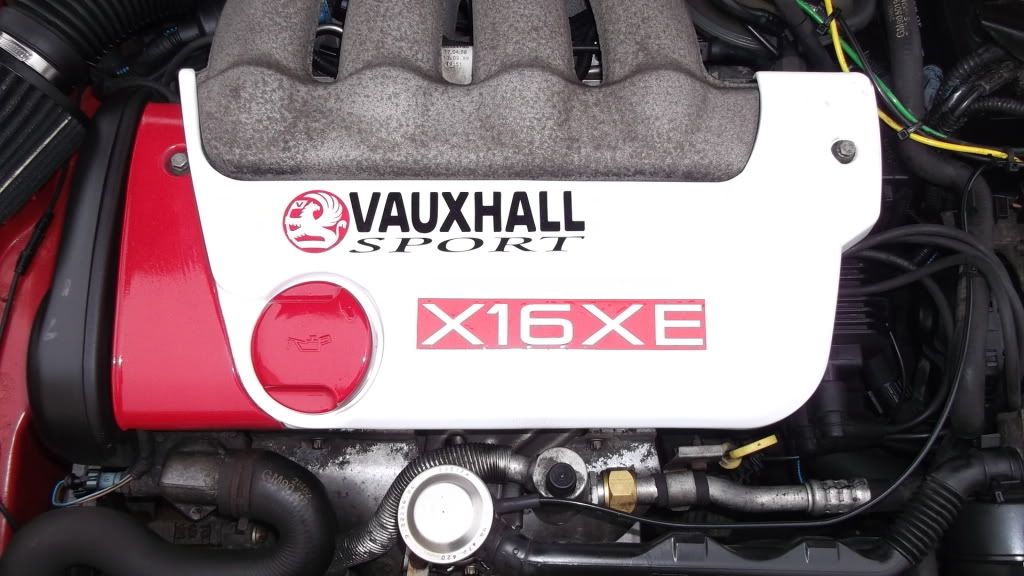 You can see I used some VX stickers to finish off the cover, they are both relative to the car with it being a sport model with an x16xe engine (below it says 1.6 16v but it's white so hard to see).
The result:
Some (hopefully) livelier looking parts on your car and a tidier looking engine bay! The colour scheme may not be to everyones taste but it will all tie in with my future plans :thumbs_up:
Cost:
I already had socket set and screw drivers on me but the rest was around £20-£25.