Discussion Starter
·
#1
·
hey guys, im kinda kicking myself because im not sure what i actually need. im getting new front and rear bumpers (original) in black plastic as i dont really like the colour coded bumpers..
the thing is, my car originally has this type of bumper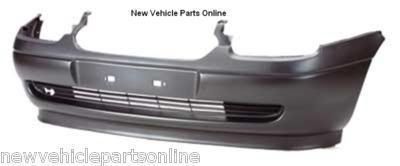 this type of bumper (image taken from ebay) is about £50 plus postage and thats a hell of a lot of money for me aged 16, i also have a problem that if i wanted to save money and pick these bumpers up i would have to get my parents to do so... :/
i then have this choice of bumper
im just not entirely sure as this bumper (image taken from ebay) is about £20 a hell more cheaper but it looks a bit odd compared to the first bumper.
i have one question, even tho my bumper i have on now is like the one at the top. will the second bumper i shown be able to fit on? most probably i will have to take off the original grill from my car off as the second bumper has a grill already on ( as i think it's attatched to the bumper ).
please someone help as dont want to waste some money and hopefully get the best i can get