プロジェクト東京
Project Tokyo
[Summer 2012]
Hey everyone Im back! :thumbs_up:Not sure if anyone remembers me or Project Osaka. I had a few years away due to real life commitments, one of those being a year in Japan. Sorry for the swift departure without any goodbyes but life sometimes throws these hurlders as us.
However Im back in the UK and i needed a car! So what else but another little Corsa. But what happend to Project Osaka? Well i drove it hard for a year doing literally hundreds of miles a day, it only let me down once when the alternator died but other than that she did me proud. While i was in Japan she sat in my uncles yard. I saw a few Corsas in Japan which made me miss mine, funny, they are called Opel Vita's there as Toyota Japan have the wrights for the 'Corsa' name. Anyway, there is nothing wrong with the car as such but i wanted something with a bigger engine and i managed to find myself a tidy Corsa Sport 1.6, Its Arden blue which I never imagined myself having but the engine power and electrics are much welcomed after my poverty spec 8v merit. :laugh:
Project Tokyo
Well I dont know what to say really, It came with a Irmcher twin back box
and some dodgy exhaust work
alm:, but i got a full years MOT which was a bonus. Straight away i had it to the garage and got the cam belt,water pump and exhaust all replaced/sorted. This car will be doing some milleage and i wanted peace of mind that it wouldnt go anytime soon. After that came a good service, some general tidying up and tlc. Project Osaka was still sat in my uncles yard looking sorry for itself and acting as storage for my parts so the plan was drive Project Tokyo up north, switch out all the parts from the black corsa to the blue and then leave Project Osaka with my uncle as part of the payment for him doing so much and use of his workshop. :thumbs_up:
Cue the music - At my uncles workshop - Again!
(Actaully i dont have many in progress shots because when we
masked the car up i left the camera inside it
alm: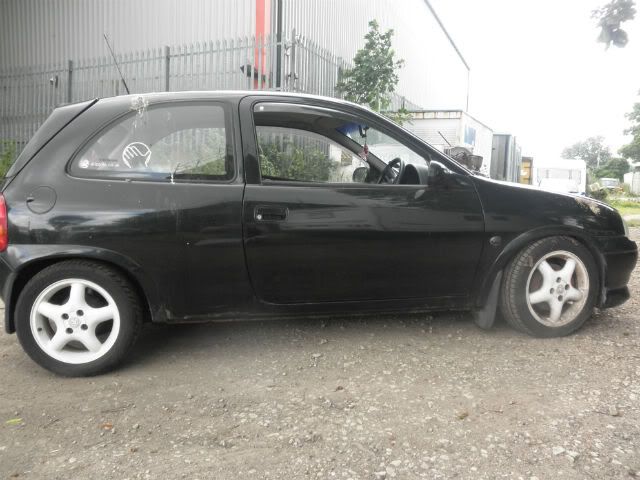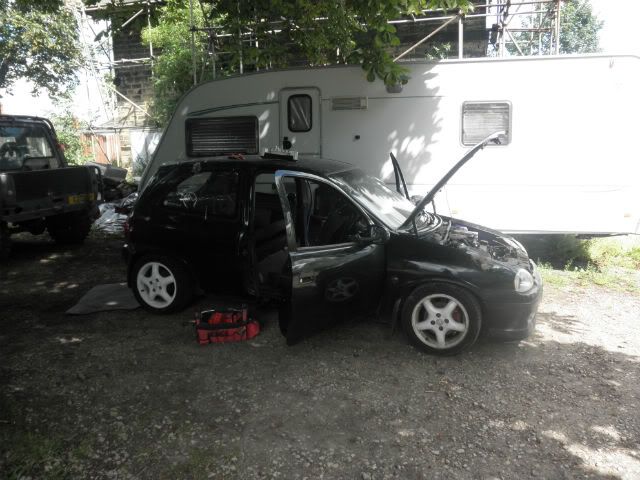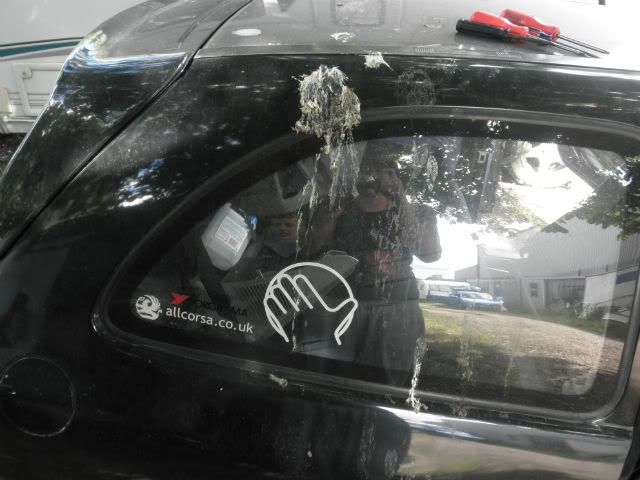 After the works done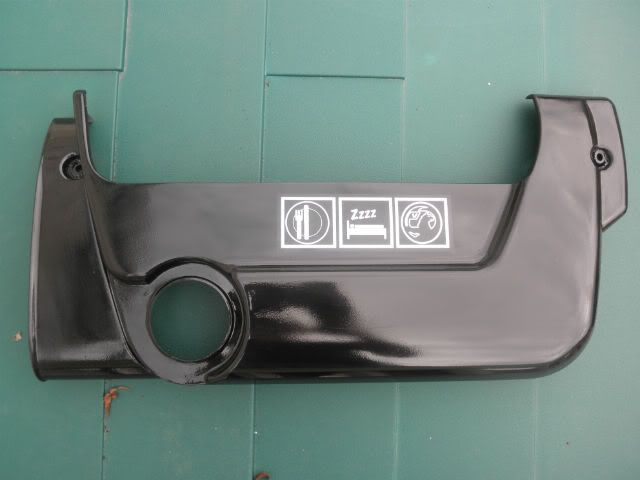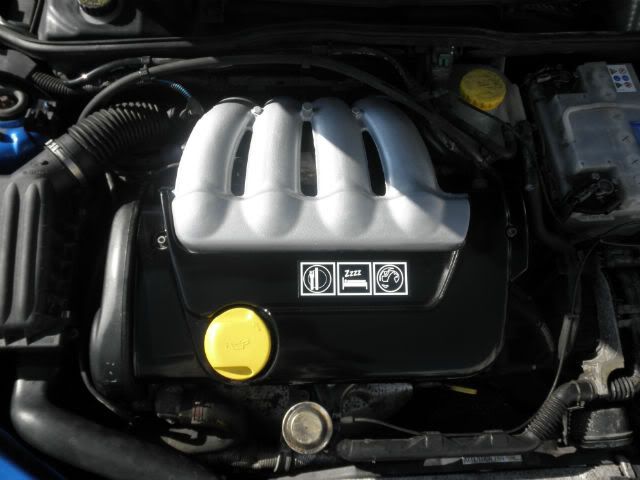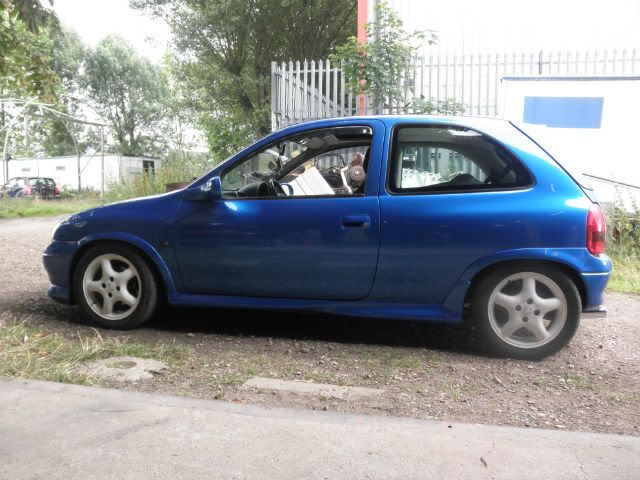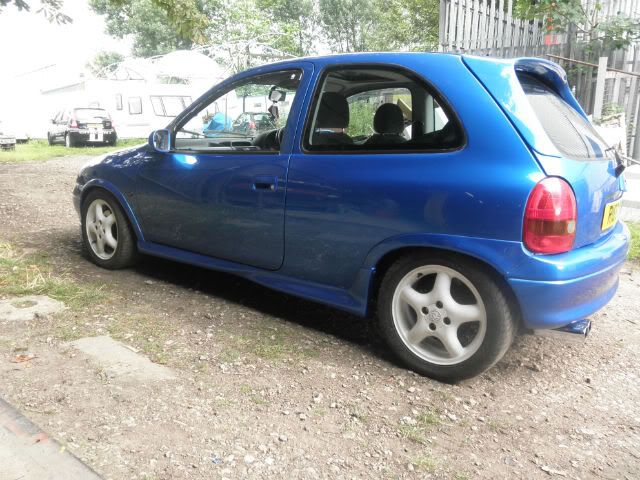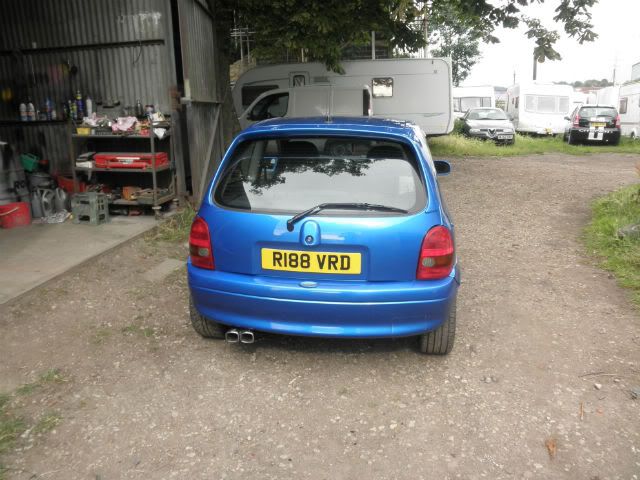 [Now]
Sticking with the white wheels for the mo and i still love the Tigra 5 spokes, I did consider gloss black but i just tried them on as they were and i think they look cracking. Below is the list of whats done and what i want to do, sure im forgetting something but oh well.
Things done so far:
Exterior:
-Steinmetz (maybe a rep) Splitter
-Steinmetz (Genuine) skirts
-Colour coded Arden Blue
-Debadged and debumpstripped
-Badgeless grill
-Vauxhall tigra 15" wheels in White with facelift style centre caps
-Vauxhall wind deflectors
-Smoked Side repeaters
-Sprayed brake calipers and drums black
-Resprayed wiper arms and added aeroflat blades
-Undersealed and hammerited underneath
Interior:
-Glove Box Light
-Passenger Sun visor with mirror (if i didnt get this id be in the bad books with the mrs haha)
-Sill protectors
-Warning sticker haha!
-Richbrook black door pins
-Richbrook Vauxhaul Handbreak handle
Engine,Exhaust,Suspension,ICE:
-De-restricted airbox
-Resprayed rocker cover
-Irmscher Twin Backbox
-Sportex stright through centre section
-Lowered 40/60 with uprated shocks & springs
-ICE = Pioneer front speakers, Infinity 6x9s, Tevion bluetooth headunit (once again odd combination)
Things to do/Wants:
-Steinmetz Grill (why do they have to be so rare?
)
-Front Strut brace
-Cav or whiteline RARB with poybushes...mmmm
-Bad-boy bonnet
-Yokohama Tyres/ maybe Toyo's?
-Performance Inlet Manifold
-4-2-1 Exhaust Manifold
-2ltr 16V brakes (256 x 24mm) from a astra/calibra/cavalier or turbo brake setup + braided lines would be nice
-Twin Pillar Pod with either Temperature, Oil or Volt metre (not sure which yet)
-Black angel eyes
-Smoked rears would be win too i think (fly eye maybe?)
-Id love some blue engine hoses but cant justify the cost
-Fiat Marea or Punto rear wiper arm
-Mudflaps, the ones from Project Osaka didnt fit
All comments and suggestions are welcome! Thankyou for reading:thumbs_up:​