Removing Wheels
1) Find the jacking point underneath your car and then with your carjack begin to jack your car up.
2)Then you put axle stands underneath both sides of the car and when you find a suitable place for them, lower the jack then undo the wheel nuts....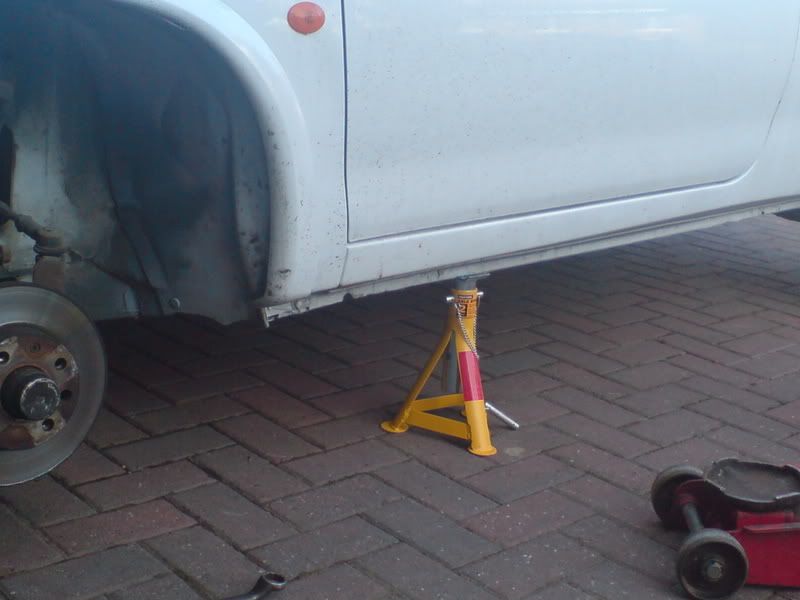 3) Then change wheels over then just line the holes up then put bolts back in the tighten up.
4) Then do same for rear.
Removing Suspension / Refitting Suspension
1) Do points 1 & 2 as above
2) Then loosen these 2 bolts......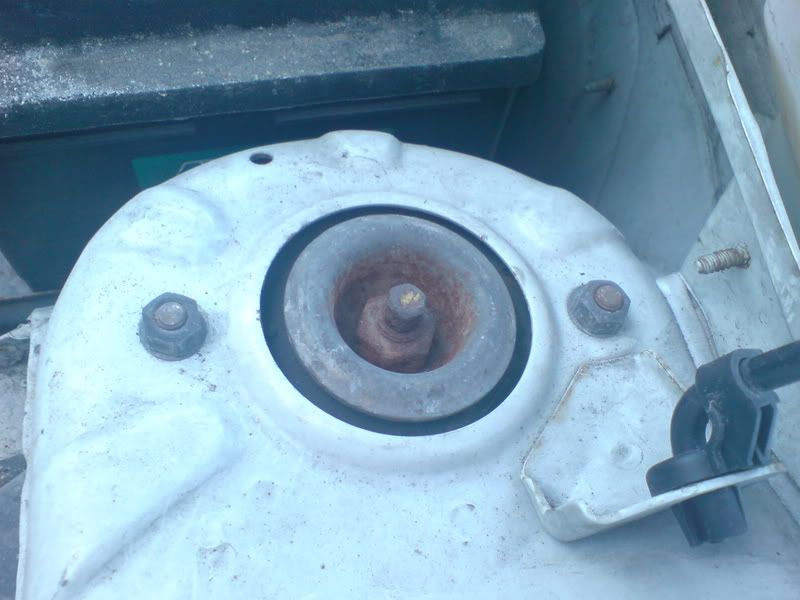 3) Then these bolts.....
Then It should come out with force :laugh:
4) Then place your suspension through the 2 holes shown in step 2 and screw the bolts about half way just so it holds it in place.
5) Then line up the 2 holes shown in step 3 and bolt them on really tight.
6) Then get your jack again and place it underneath the brake disc and the slightly jack it up just so it puts tension on the spring, then just fastenen them 2 small bolts tighter then remove jack and then remove the axle stands from the front.
7) Put the kettle on and admire your hard work and wave to your neighbours :laugh:
Back Suspension
1) Jack the back of the car up from the side of the car and place axle stands like so...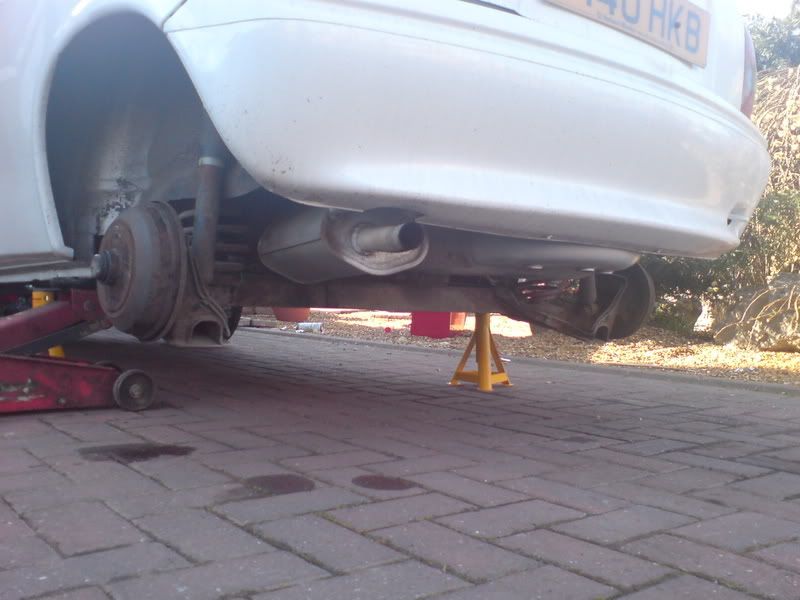 2) Then loosen this bolt from BOTH sides.....
3) Then the spring should then be really loose, remove from it from its place.
4) IMPORTANT BIT: Make sure when you put the spring back in its all lined up properly or it might slip out like I witnessed
5) Then get your jack and jack the car up from one side and remove the axle stand and place it on the rear axle.
6) Then place your jack your brake drum / brake disc up so you can reline the absorber up and the put the bolt back in that you took out before and tighten, Do the same for the other side.
7) Then put your wheels back on and tighten bolts.
8) Then remove all axle stands and then lower the car.
9) Go round the car once more and tighten up all bolts.
10) Put kettle on again and then just look at your car`s new look :thumbs_up:
*I now have some lowering springs for sale now, so if anyone wants some drop us a PM*